El A&O Frankfurt está en el lugar perfecto para todos los que viajen a la ciudad por negocios o por placer. A sólo 1 km de la estación de tren principal y del centro de congresos, se puede llegar fácilmente al A&O con transporte público. Cogiendo el S-Bahn o el tranvía hasta la estación Galluswarte, nuestros huéspedes aterrizan en nuestra propia puerta.
El albergue por sí mismo está ubicado en el distrito Europaviertel el cuál está a solo 200 metros desde la enterada sur del Messe Frankfurt/Centro de la Feria del Comercio. "Frankfurt (Principal ) Messe" es cercano también, por lo tanto todos los huéspedes que se alojan con nosotros pueden llegar fácilmente a la Estación Central en transporte público.
Very nice stay at A & O Frankfurt Galluswarte! Spacious rooms, equipped and clean! Nice staff. And very well served by the metro! I recommend for a stay in Frankfurt!
Really unqualified staff, no interest in us, lack of qualification
This hostel is well located in Frankfurt. It is close to Hauptbanhof and by S-Bahn Station.
Nice hostel with friendly staff. it was clean and I felt safe. so I recommend it for backpackers that want to stay in Frankfurt
sehr angenehm, locker und gepflegt
Sauber, freundlich, preisgünstig, aber laut
Impressed
Chambre agréable et accueil sympathique
Mehr als erwartet!
Cleaniness and security, in fact everything about the hostel
Had air con style cooling system, and contemporary bathrooms
Neat,clean room and friendly staff
Location-wise, it's pretty good. Not far from the station and the river is about a 25 minutes walk. It's also right next to a S-Bahn station as well. Also, this is more of a hotel with some hostel style rooms, so if you're looking for a classic hostel setting with tons of backpackers, this isn't it. But it's still a nice place to stay.
No
Very clean and modern. Excellent facilities, in particular the late night bar. A good atmosphere for backpackers in Frankfurt.
Breakfast was okay, it was bigger than I expected, and the reception was very good.
Everything spotless - more like a hotel than a hostel.staff were very friendly and only 20 min walk to main city.
It takes 15 mins on foot from Frankfurt HBF to hostel, you can pass Skyline plaza (big shoppingmall) on the way. You can reach any attraction areas by S-bahn.
Very clean, new building.
Everything was good. Cleanliness its over 10! Its a very safe Hostel.
It's a new hotel, very clean and fun place to stay at. The staff was very helpfull. There is a shopping mall near the hotel which offeres a lot of places to eat.
Super nice rooms.
As a family we stayed a 4 bed room and we had a fantastic night! The beds were very comfortable and clean as was the whole bedroom/bathroom. The hotel was quiet even though we were next to the dining room. The staff were very nice and efficient. Excellent experience all together! We will look out for other hotels from the same group when we travel in Europe.
Has an interesting character. Good lounge area in front. Exceptionally clean and new feeling.
Very modern and clean, although right next to s-bahn (well connected to public transport) it was quiet inside the rooms, a guest kitchen with all the basic things and a big refrigerator, very helpful staff! We would stay there anytime again.
Big rooms
We stayed here in June and the room was large enough for us. The bathroom was clean and was provided with hand wash and body wash but the cleaner forgot to refill them as it was used up. It was close to the station and you can easily see it from the station and the view was quite good. It was nice that they have self-catering kitchen so we can cook during our stay. They provide drinks like coffee and the staffs were very friendly to provide information for us. The price was great as it cost around euro 20 for each of us. Overall the hotel was good and is highly recommended!
New hotel, clean, very friendly staff. Very well working noise-reducing windows. Quite although next to a construction site and railway.
Very clean and the beds were comfortable. The staff was very friendly and helpful.
Good!
The venue is actually a hotel that seems to have turned some of their rooms into hostel rooms by adding a bunk bed.
This was a wonderful hostel/hotel hybrid. It's easy to find from the metro (due to the immensely large sign), and it's only a few stops from the center I town. The place was extremely clean and modern. If you don't want to pay for the buffet breakfast, you can order delicious pastries and sandwiches from their coffee shop/bar. Kristine was very nice when we arrived and Vanessa was incredibly helpful when we wanted to extend our stay. The staff here deserve full marks for their friendliness and helpfulness. The only warning I'll give is that this place feels more like a hotel with dorm rooms than a traditional hostel, so be aware of what you're booking before you arrive. I would definitely recommend this property.
very very clean, extremely comfortable beds, modern, good service, felt like a hotel but as cheap as a hostel
Friendly staff , extremely clean, great location and finally great value for money
Estamos ubicados directamente en el aeropuerto de Frankfurt, que es el más grande en Alemania. La Terminal 2 está justo a corta distancia a pie, mientras el resto del aeropuerto está a solo pocos minutos en carro o en autobús. Además, el transporte público es una buena manera de conectarte con el centro de la Ciudad de Frankfurt - puedes llegar a la Iglesia de San Pablo, la Casa Goethe o la Catedral de Frankfurt a sólo 40 minutos.
new, decent rooms
.
This is a hotel near the airport. Takes only 15minutes by walk. Because they put beds together and make several domitory rooms at hotel, you can enjoy the great condition of a domitoryroom. The room was so clean, I felt quite cozy. If you are looking for a room near the airport and spend a night before your flight, it is the one you're looking for. There is a suttlebus can take you terminal 1 or 2
Near to the airport
clean and very nice
Very close to airport. Awesome value for money.
It's a great location if you are flying out of Frankfurt. It's a simple 10 min walk or they even have a shuttle service included. Getting to the city is also not bad because there are trains in the airport that take you there.. Very clean and had hotel like facilities. Shower gel, free towels and all.. Great place.
I really like it ~~~ I am surprised at this price for this facility !! The disadvantage is that there is no personal locker and it is like a hotel, not really a hostel! Every room has a wash basin + toilet / wash basin + shower booth, so there is a dryer in the room and this is closer to the hotel than the existing hostel.
Good
It's very near to the airport trrminal 2 and very economic And helping staff. Most attractive is free shufttle bus to airport.
I came to the hotel very late and after an exhausting day of travel, I had booked the hotel at the airport via my phone just prior to arriving at the hotel. My overnight in Frankfurt was unexpected last minute. Once at Meininger, they had no record of me, even though I had my booking reference #. I was becoming very upset and annoyed at the situation and with Driss, the front desk clerk helping me.Well, turns out, It was MY FAULT. I BOOKED MY DATES WRONG. I was so embarrassed! I was impressed with Driss and his professionalism and calm deminor in dealing with an upset then wrong customer. Great job Driss! The morning staff was also helpful in giving me directions into the city via a close bus stop. I would stay here again.
The stuff were really nice.
This hostel is extemely close to Frankfurt airport- without luggage it is easily within walking distance. Staff are helpful and speak English fluently. It is modern, large and easily the cheapest accommodation to be found anywhere near the airport. There is a shuttle bus from Terminal 2 to the hostel leaving approximately every 20 minutes. It is free, but returning back to the airport with the shuttle costs 3.50 euro, though they will take you to either of the two terminals.
Very accessible to airport and transportation into Frankfurt. Friendly and helpful staff. Breakfast was excellent. Very comfortable beds. Nice to have own bath facilities in room.
The cafe and free WiFi is great.
It was the best hostel I have ever stay in. It was more like a hotel, only that some other people were also sleeping in your room :) Very nice, clean, comfortable...and nice people at the reception.
quiet
Very convenient to airport
amenities
It is very closely located to the airport so very convenient if you have an early morning or late night flight. It is a hotel and hostel in the same premise so the look is more elegant and serene.
even the dorm room has their own bath/toilet room with town / tv/ blanket!! staffs are good!
It was very clean, hotel-like, and just a short walk from the Airport. Also they offer free transportation, in 3-4 min you get to the Hotel comfortably, and they offer clean towels free of charge.
Great service by staffs as usual at Meininger.
proximity to airport, availability of shuttle, cleanliness, wi-fi, bargain price for weary travelers
Location
Hostels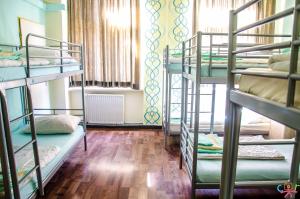 Este albergue se encuentra frente a la estación central de trenes de Frankfurt y ofrece un alojamiento moderno y asequible. Podrás ir a pie al recinto ferial y a los lugares de interés de la ciudad en 10 minutos.
Hostels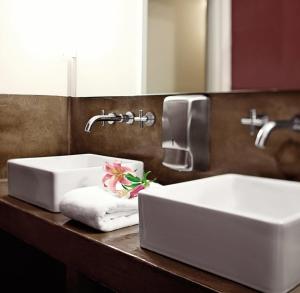 Este moderno albergue está ubicado a 200 metros de la estación central de Frankfurt, en el barrio rojo de la ciudad. El Five Elements Hostel ofrece WiFi gratuita y es un punto de partida ideal para descubrir Frankfurt.
Hostels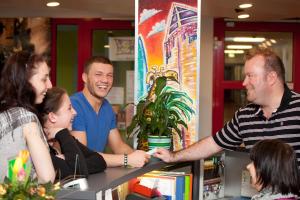 Este albergue juvenil está situado en el río Meno y ofrece vistas panorámicas fantásticas al skyline de Frankfurt. El Haus der Jugend dispone de recepción 24 horas y un patio interior de ambiente agradable.
Hostels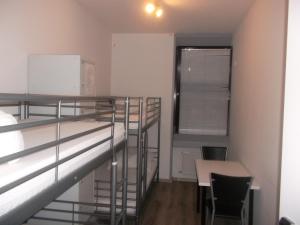 Este albergue goza de una ubicación céntrica a solo 2 km de la estación central de Frankfurt y ofrece WiFi gratis (limitado) y aparcamiento público gratuito en las inmediaciones. El Frankfurt Central Hostel está a 11 km del aeropuerto de...
Propietarios y gerentes de albergues
Registren ahora su hostal en nuestra nueva Extranet.